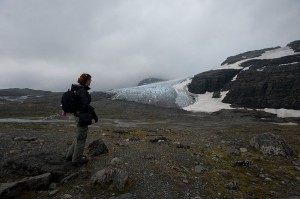 AUTONOMOUS PHOTOGRAPHY / FINE ART
Ominous clouds. Rays of light gliding across the landscape. I am inspired by nature both local and far away. Rondane (Norway) feels like coming home. Being surrounded by nature can give me an intense feeling of happiness. A feeling that everything is right. At peace. Being surrounded by signs of human interference, however, can feel alienating and oppressive.
My work involves realistic landscapes – often with a mysterious and tranquil atmosphere – and also picturesque, impressionistic, abstract images, for which I use my camera as a paintbrush.
In addition, I also make work that is slightly different in terms of location and subject, such as self-portraits and the BLOOM series.
The images have not been extensively 'Photoshopped'. I do not manipulate the images other than a basic finish in Photoshop, such as 'dodge' and 'burn' (i.e. letting parts of the image appear darker or lighter), a process which is also done in the darkroom. Everything in the picture was captured on camera, in a single image. I show what was present in that moment. Sometimes it was already there, sometimes I had to wait for hours or days.
My artwork can be seen at various exhibitions and has already been shown twice in the Gemeentemuseum The Hague.
COMMISSIONED WORK
Apart from my autonomous work I also work on commissioned photography: corporate and social-cultural events. My specialty is observing discreetly in often sensitive circumstances, working with natural light, and capturing those moments when something special happens. Photos that tell a story. I twice had the honour to be asked to photograph Royal Highness Princess Beatrix. The images are used for websites, social media and various printed materials, such as newspapers, books, annual reports and posters. Clients include De Volkskrant, The Irish Times, Natuurmonumenten, Municipality of Utrecht, the Dutch Wind Ensemble and various individuals. See Publications.